Maysam Alzuhairi (R) of Worcester and Awham Alkuheli (L) of Worcester wait their turn to be baptized at a Mandaean baptism ceremony prior to a wedding celebration on the banks of Lake Quinsigamond at Lake Park in Worcester, Massachusetts on July 10, 2016.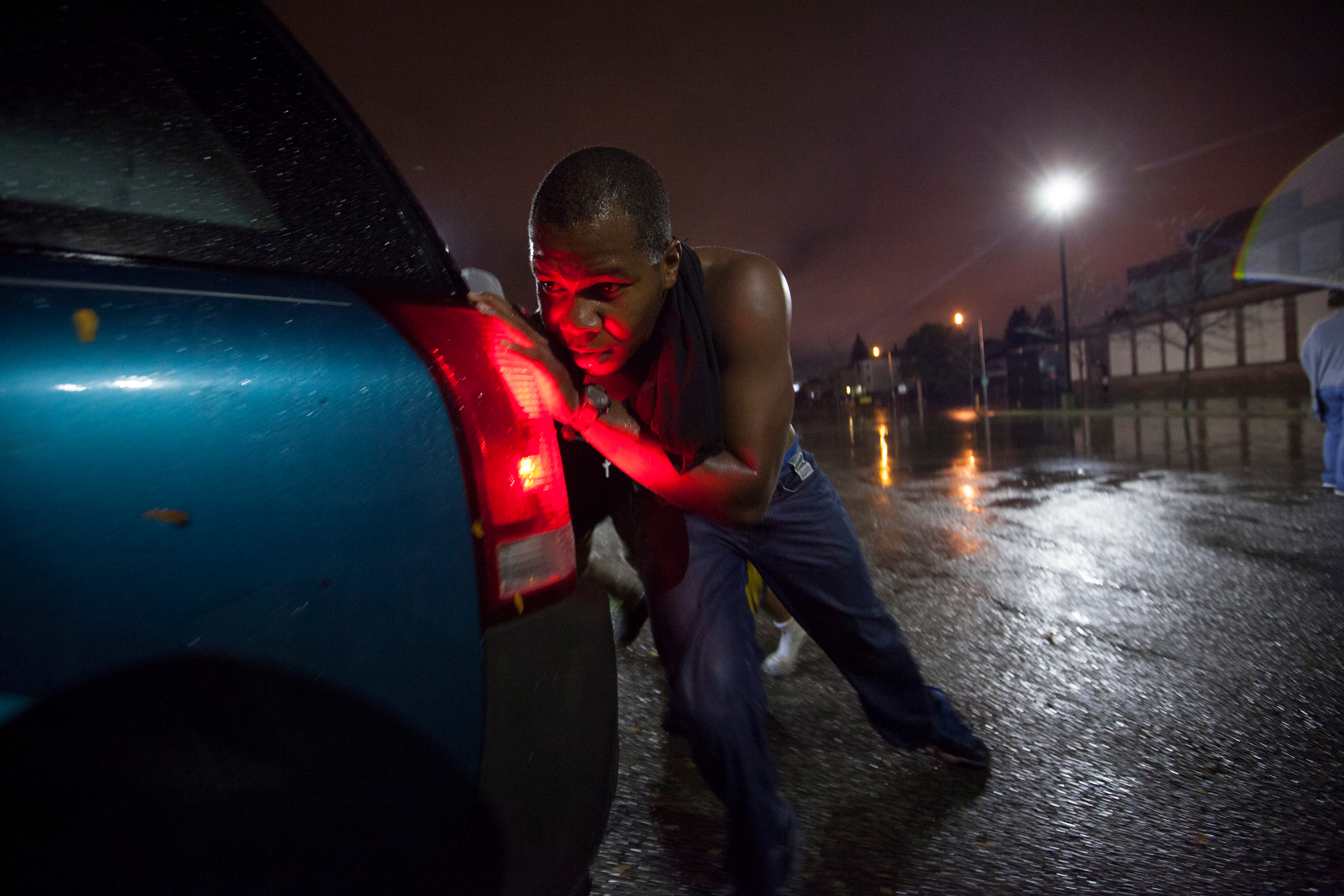 Good Samaritan Elijah Armstrong of Worcester helps push a strangers car out of flood waters on Washington Street and into a nearby Burger King parking lot in Worcester, Massachusetts on October 21, 2016. Flash flooding in the area left many motorists stranded and closed down parts of route I-290.
Jill Corso (2nd-L) yells to friend Lesley Cruz (R) as she holds her 12-year-old daughter Arianna Desiderio away from a possible altercation as Urban Missionary Reverend Meredyth Ward (C) stands by Cruz's 16-month-old daughter Xyannaliz Cruz on Main Street in Worcester, Massachusetts on September 30, 2016. Corso and daughter Arianna are currently homeless and staying with Cruz in Worcester.
A supporter of the 'alt-right' yells at counter protesters during a 'Free Speech' rally on Boston Common in Boston, Massachusetts on May 13, 2017.
A Boston Police officer pushes back counter-protesters on Boylston Street in Boston, Massachusetts on August 19, 2017. The counter-protesters were gathered in response to an 'alt-right' 'Free Speech' rally.
Friends of Marie Joseph from left Lisa Durban, Dee Reid, and Latish Price-Devoe console one another during a candlelight vigil for the drowning victim at the Vietnam Veterans Memorial Pool on Friday July 1, 2011.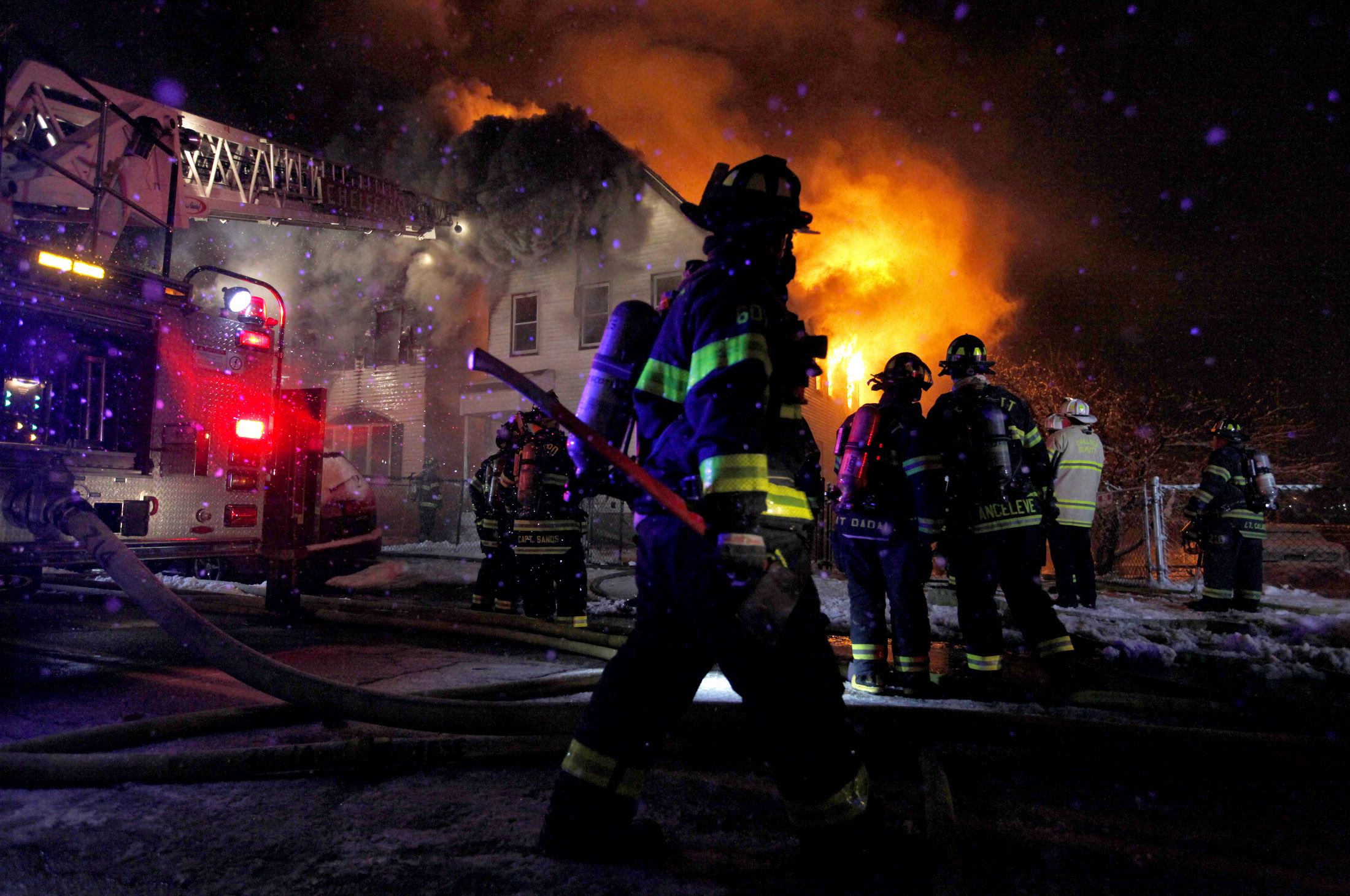 Chelsea firefighters battle a blaze at 375 and 373 Crescent Avenue in Chelsea, Massachusetts on Saturday, January 24, 2015.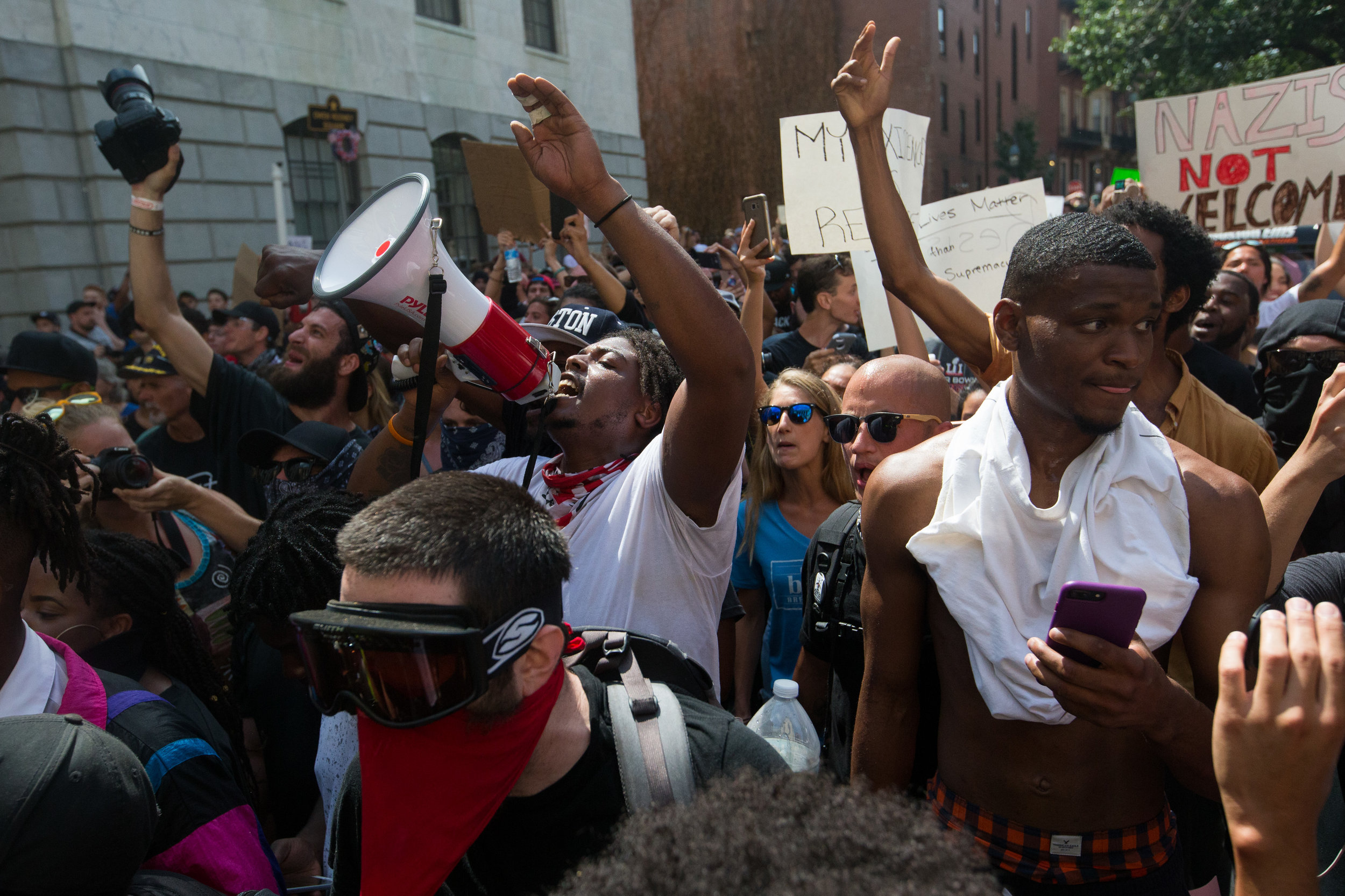 Counter-protesters gather on Mount Vernon Street after chasing a supporter of US President Donald Trump following an 'alt-right' 'Free Speech Rally' on August 19, 2017 in Boston, Massachusetts.
Kimberly Grant, 28, (C) looks over the two five year old children that were riding in her green minivan, as they are tended to by Boston Fire and EMS after an accident with an MBTA bus on the corner of Morton Street and Gallivan Blvd in Boston on May 29, 2010.
A group of boys on bicycles make their way down Main Street during the Independence Day Parade on the island town of Vinalhaven, Maine on July 4, 2017.
Relatives of 18-year-old Nentor Dahn who went missing while swimming in nearby quarry react while rescue personnel continue their search in Milford, Massachusetts on Sunday, July 6, 2014. The teen who was swimming with friends reportedly dove off of one of the cliffs and never surfaced.
South High Community School graduates line up before the start of the commencement ceremony at the DCU Center in Worcester, Massachusetts on June 7, 2017
New York City-based muralist and artist Nick Kuszyk works on the restoration of the George Washington Bicentennial Mural on the back of a building on Main Street in Worcester, Massachusetts on October 29, 2016.
Cranberry harvester Felipe Amparez uses a floating boom to corral ripe cranberries towards an industrial pump at the Bumpus cranberry bog during the fall cranberry harvest for the A.D. Makepeace Company in Carver, Massachusetts on Wednesday, October 2, 2013. A.D. Makepeace is the world's largest cranberry producer. Matthew Healey/Bloomberg
Edward Boderbe, 9 of Worcester, trudges across a snow covered hill after playing soccer in Green Hill Park on January 29, 2017 in Worcester, Massachusetts
New Hampshire resident Duncan Wentworth (L) hangs out in a friends ice fishing bob house on Little Squam Lake in Ashland, New Hampshire on February 7, 2016. New Hampshire will hold the first in the nation primary on February 9th.
Pete Duhamel of South Kingstown, Rhode Island helps a friend (not pictued) remove his personal items from his cottage after it was damaged by Hurricane Sandy storm surge at Roy Carpenter Beach in South Kingstown, Rhode Island on October 30, 2012. The area was one of the hardest hit by the storm surge from Hurricane Sandy.
Governor Deval Patrick listens in during the Governor's Council Meeting inside the Executive offices at the Massachusetts State House in Boston on Friday, January 2, 2015.
A woman watches the Southbridge Hispanic Parade from the window of a building on Main Street in Soutbridge, Massachusetts on Jun 24, 2017.