Clark University Math Professor Jackie Dresch poses for a photo in a computer lab on the campus of Clark University in Worcester, Massachusetts on January 27, 2016.
Race car driver Theresa Condict poses for a photo on the track at the Thompson Speedway with a 2012 Ferrari 458 Italia in Thompson, Connecticut on May 23, 2016. Condict competes in the Sports Car Club of America Improved Touring R class and also works at the Speedway which uses the Ferrari for it's exotic car experience.
Raymond M. Dunn, MD, Professor and Chief, UMass Memorial Plastic Surgery, is photographed in one of the trauma unit bays at UMass Memorial Hospital in Worcester, Massachusetts on July 28, 2017.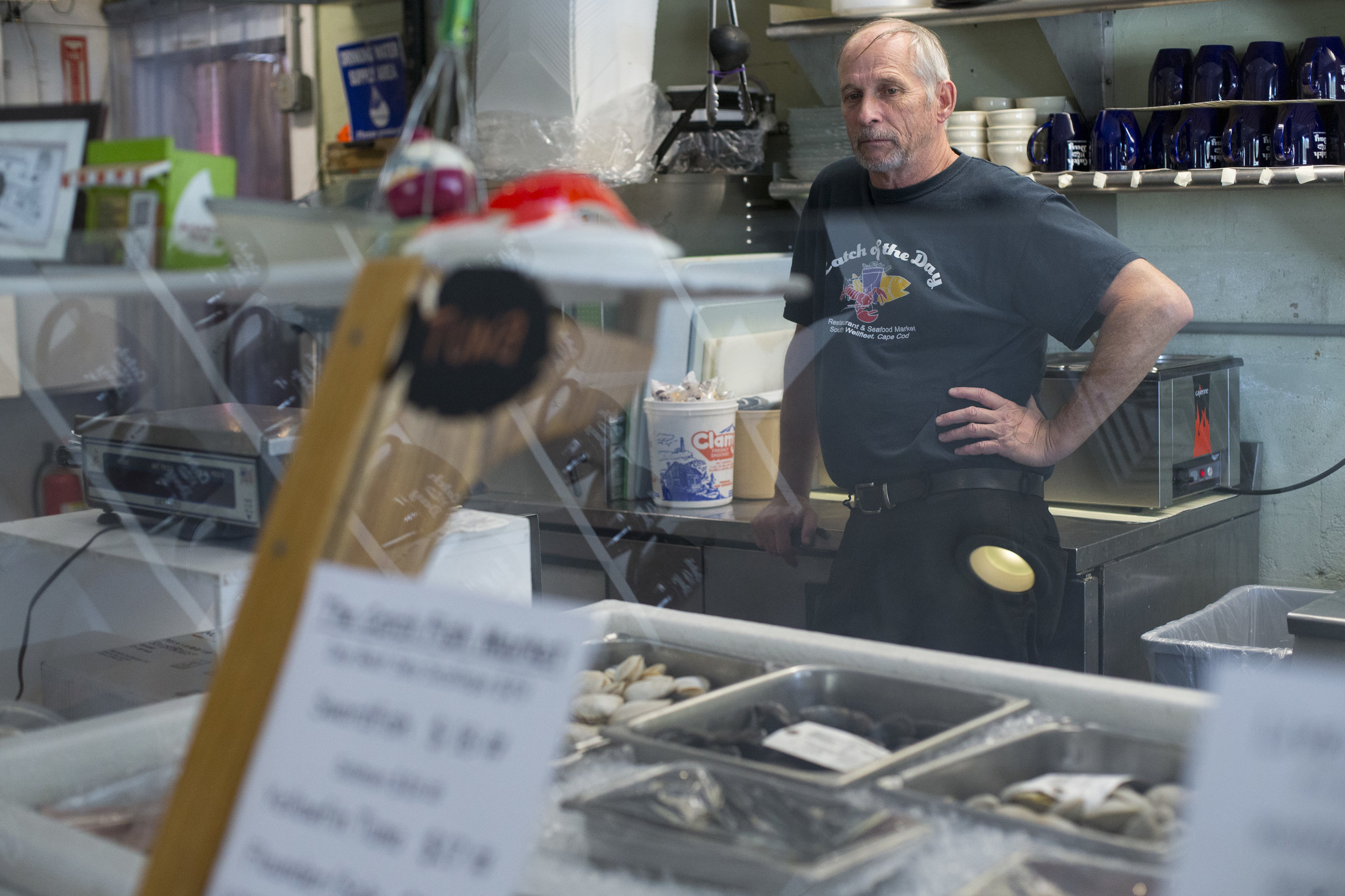 Chuck Fletcher, manager of Catch of the Day restaurant and seafood market, takes a quick break behind the counter of the seafood market in Wellfleet, Massachusetts on May 21, 2018. The business is one of many that are having difficulty finding seasonal workers to hire now that fewer visa's for foreign workers are being issued.
Lorna Koppel, Tufts University Director of Information Security, poses for a photo at her office in Somerville, Massachusetts on April 28, 2015.
Michelle Santacreu, a freshman at Worcester Polytechnic Institute, poses for a photo on the school's campus in Worcester, Massachusetts on September 15, 2017. Santacreu who intends to major in computer science, is one of the many women at the school who are helping close the gender gap that is found in STEM programs.
George P. Kelly of Scituate, MA, long time parishioner of St. Frances Xavier Cabrini church, sits for a photo in the vestibule of the church while sitting vigil on Thursday, December 1, 2011 in Scituate, Massachusetts. Mister Kelly and his fellow parishioners have held an around the clock vigil inside the church since 2004 when the Roman Catholic Archdiocese of Boston announced that St. Frances Cabrini was slated for closure.
Kate Stillman, owner of Stillman Quality Meats, poses for a photo while holding a Broad Breasted White Turkey hen while standing inside a pen among the turkeys raised on her farm in Hardwick, Massachusetts on November 19, 2015.
Captain Brad Primer on the Megan T. Miller poses for a photo before the ship heads out to take samples of soil from the sea bed in the area proposed for the Cape Cod wind farm in Barnstable, Massachusetts on August 9, 2012.
Joseph Caramadre poses for a photo in his home in Cranston, Rhode Island on August 15, 2012. Joseph, who is the CEO of Estate Planning Resources, Inc., is currently facing sixty-six federal counts of fraud related to variable annuities for the terminally ill.
Commercial handline fisherman, Ted Ligenza, cleans up his boat the "Riena Marie" as he talks to the reporter while tied up at the Chatham fish pier after a day of fishing in Chatham, Massachusetts on October 21, 2013.
Jason Hill, Superintendent for the north central region management unit for the Trustees of Reservations, poses for a photo in the pinetum of the Farandnear Reservation in Shirley, Massachusetts on September 25, 2015.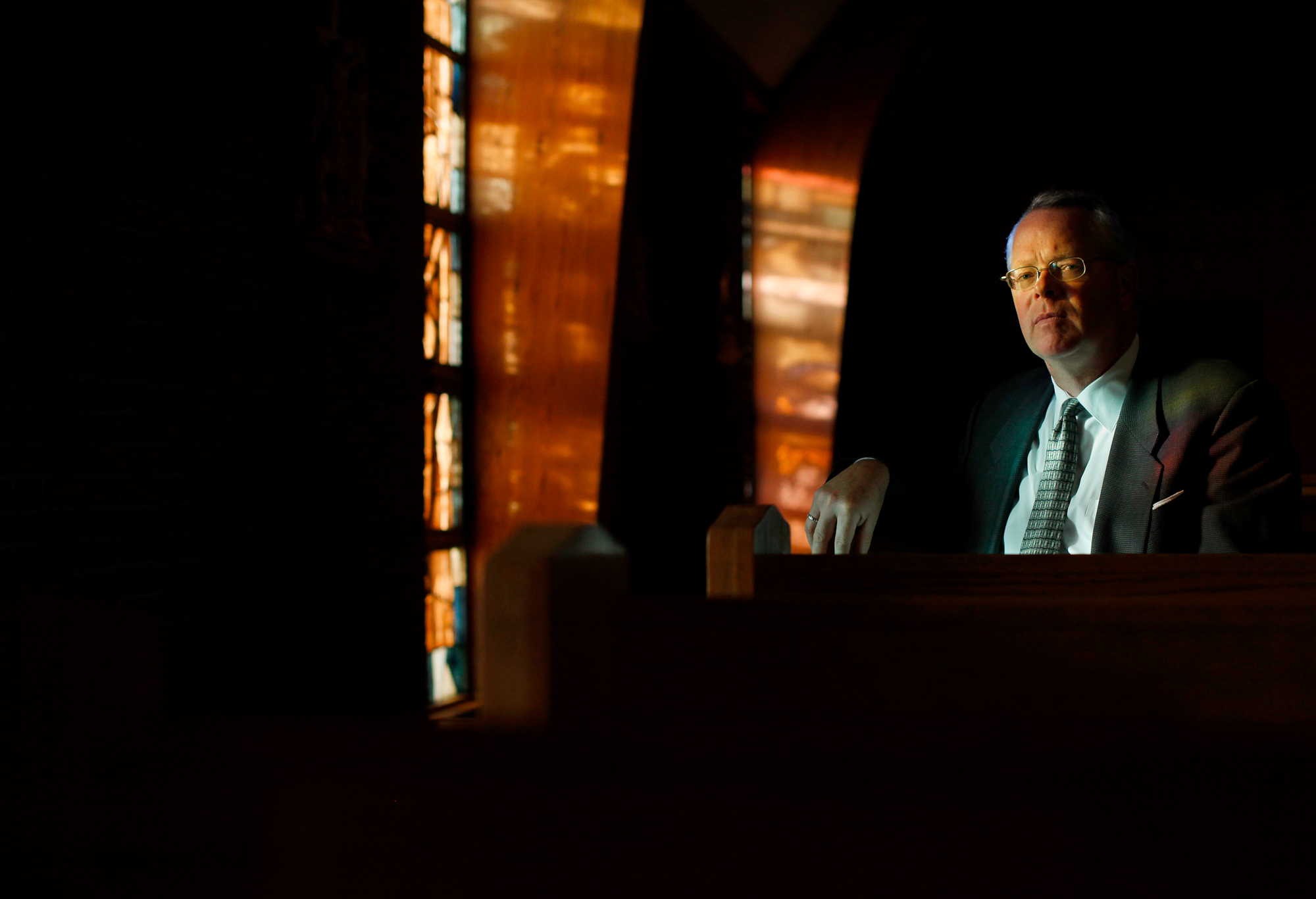 Jon Rogers of Scituate, MA, parishioner and spokesperson for The Friends of St. Frances Xavier Cabrini church, poses for a photo inside the church nave in Scituate, Massachusetts on December 1, 2011.
Ernie Ciccotelli poses for a photo inside his Norwich, Vermont home on Dec. 31, 2013. Ciccotelli suffered compilations after he donated a kidney to his brother in January of 2006 at Beth Israel Deaconess Hospital in Boston. Ciccotelli was unable to find a malpractice attorney to take on his case.
Stan Ellsworth, star of the TV series 'American Ride' poses for a photo in the North End of Boston on July 3, 2011.
Oscar Alfredo Ramirez Castaneda poses for a photo with an old picture of his adopted father inside his home in Framingham, Massachusetts on May 12, 2012. In 1982, a squad of army commandos had stormed the village of Dos Erres in Guatemala and slaughtered more than 250 men, women and children. Oscar was then three-year s-old and one of the only survivors of the massacre, he was adopted by Lt. Oscar Ovidio Ramírez Ramos, who lead the massacre on Oscar's town.
Mural artist Sophia Ainsley poses with her piece titled 'In Person, 574' which is being installed in the renovated 574 Boston Avenue in Medford, Massachusetts on Thursday, March 12, 2015.